---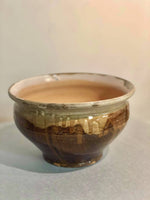 A beautiful MAKITRA is very traditional Ukrainian Style Bowl. Especially for Christmas we have a tradition to have it on our table with 12 dishes.
This plate is handmade and wheel-thrown using a brown stoneware clay. After the piece is placed into the kiln to undergo its first firing. The plate is then glazed and enters the kiln for its second firing. After it comes out of the final firing, it's ready to find a new home with you!
 Reduction fired to 2360 degrees. (F)
LEAD Free
Dishwasher and microwave-safe stoneware and intended for everyday use. 
Glaze colors: Yin with White
Bowl Size: 5" high and 8" wide
Each piece of pottery is handmade and unique, please understand that it will contain small variations in form, size, and color.
This shop is gladly accepting returns within 7 days of delivery.

Depends on availability ships in 5-7 business days.
-