---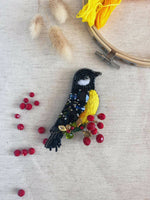 Very delicate work is included in this brooch. "Belly" of bird is a little voluminous and is embroidered with cotton threads. 
Other materials: glass crystals, different sized beads, Czech beads, soft and stiff French wire, hard wire for "berries", faux leather and other details.
SUCH BROOCH OR SIMILAR TO IT CAN BE MADE FOR ORDER AS IS IT CURRENTLY OUT OF STOCK.