---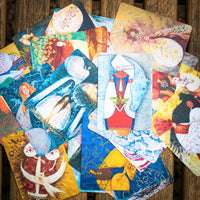 The incredible set of mega beautiful metaphorical  associative cards "Manifestation" (Ukrainian artist, aphorisms from the women's literary studio "Inspiration"), created and published in Ukraine.
Possible in English translation.
   These cards help to touch the soul, feel it, see special colors, beauty and live through special touching experience...
36 cards-36 unique touches that using words and images will show the light and beauty of Ukraine all over the world.
   In a set of 36 cards, size 3.9 * 5.5 inches, in a box-wrapper.
   Magical, feminine, beautiful, high quality!
   You hold such beauty in your hands - and it's good on the soul.
   And for a gift - perfect!
   You can touch and feel Ukrainian authentic culture.